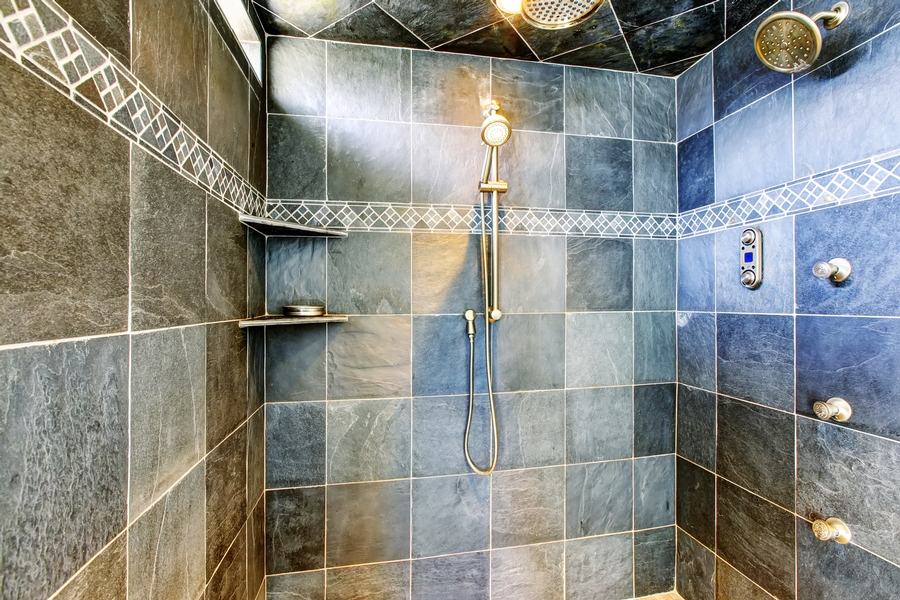 Increasing, we find homeowners gravitate to spa-like shower systems because they can provide a few minutes every day all to themselves, devoid of texts, tweets and the even the demands of little feet.  A multifunctional shower system helps promote health and wellbeing with systems that can relax and rejuvenate tired muscles and soothe arthritic pains, remove toxins from the body and enhance circulatory functions.  Plus, several studies have found that taking a shower can enhance creativity.
The reasons that taking a shower can make you more creative are not entirely understood. Several studies attribute the creative benefits result from being in an environment that is calm and relaxing, which allows the mind to wonder and become more nimble. Plus, when you give your brain a chance to wander it can make spontaneous connections between seemingly unrelated concepts or problems, leading to creative insights and problem-solving.
Keys to creating a spa-like shower in your home include having sufficient space.  A standard shower typically is 3 feet by 5 feet.  However, most homeowners that want to create a spa-like shower  require a larger space.  This often is created by eliminating the tub and using that space for a shower area that is spacious and open.  
Using a glass enclosure, glass wall or no enclosure contribute to the sense of openness and spa-like feel. Eliminating the need for enclosure requires the use of a linear drain long a back wall or side wall and sloping the floor in the direction of the drain. This technique turns the bath into a wet room providing an open floor plan with similar benefits to open floor plan kitchens.
Homeowners also are attracted to natural materials for their spa-like shower areas that feature stone, wood or bamboo flooring, wall coverings or accent pieces that create a sense of calm in the space.
Use of wall mounted showerheads and body sprays combined with an overhead rainfall shower head and handheld shower provide for an immersive shower experience that can message tired muscles and deliver a more luxurious shower experience.
In addition to message therapies, homeowners also welcome steam systems that helps improve circulation, eliminate toxins from the body, rejuvenates skin follicles and alleviates congestion, clears nasal passages, and soothes irritated airways among other benefits.
To take a shower experience up several more notches, consider music systems and color and aromatherapies.  No spa shower system would be complete without benches or seating where homeowners can relax, enjoy treatments and therapies and shave legs.  
The secret to designing and enjoying a spa-like shower is to create a space that is peaceful, spacious and has the appropriate number of bells and whistles that provide a refuge from stresses of the day.  To learn how you can create an in-home spa for your family and yourself, give us a call at (304) 736-2007 or visit our showroom.